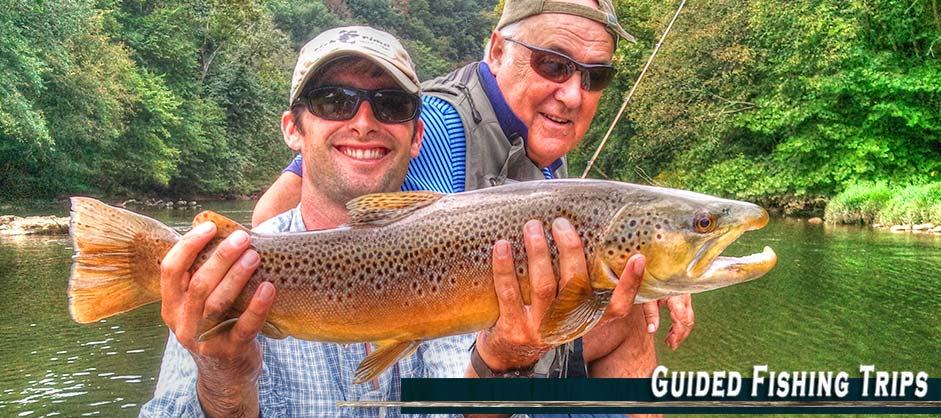 Guided Fishing Trips with Asheville Anglers
Based out of Asheville North Carolina, we are fortunate to be surrounded by 4000 miles of public trout water. North Carolina offers many great wild brook trout tributaries, as well as some larger creeks that produce high numbers of trout and some big boys as well! October through May is the best time to take a guided wade trip in North Carolina.
With a short drive over the mountain we can be on one of our East Tennessee tailwaters, the Watauga or South Holston River. We spend more time on these two river systems than anywhere. With daily releases of water the river temperatures stay regulated and the fishing never slows down! These are much larger rivers, and we suggest getting in the boat for the best fishing. Generally floating 3-8 miles of river on a float trip gives our anglers ample opportunity at fresh water all day. Wade fishing trips can be possible on the Watauga and South Holston, if generation schedules allow. These tailwaters stay consistently clear and active, so fishing is great year around. And during the heat of summer this is exactly where you need to be fishing!
Asheville Anglers offers a variety of guided trips to match the desires of our various clients. Whether hunting or fishing is your passion, or perhaps just an adventure to make your stay in our area more memorable, Asheville Anglers has both the talent and the resources to make a lasting impression.
Gift Certificates are available to purchase for half or full day guided trips.
Click below to learn more about each of the various guided trips offered by Asheville Anglers.
Deposit & Cancellation Policies
· We require a deposit of 50% of the trip's total at the time of booking when making reservations 30 or more days in advance.
· For reservations made within 30 days of the scheduled trip's, we require a deposit of the trip's full value.
· Guide trip deposits are full refundable when cancellations are made 14 days before the first date of a scheduled reservation.
· We are unable to offer any refunds of deposits when cancellations are made within 14 days of a reservation.
· Weather cancellations will be at the Guide's discretion.
· Weather cancellations will be rescheduled.
· Rain is not a reason for cancellation.
· Generally we do not cancel trips due to inclement weather - monitor weather as trip approaches to bring clothing appropriate for conditions.